Scents of the Season
I was just home for the holidays - a good, old fashioned white New England Christmas. I was noticing the scents come to mind this time of year, whether they are pine trees, a roaring fire, goodies baking in the oven, or the crisp winter wind. The holidays are emotion-charged and our sense of smell is directly linked to the emotional center of the brain, so it's no wonder that companies are quick to bottle the scents of the season.

FRAGRANCES
Neiges

Lise Watier's fragrance Neiges ("snow") evokes the exquisite purity of white flowers: hyacinth, lily of the valley, Christmas rose, night-blooming jasmine, magnolia, and orange blossom. When Neiges melts on skin, its compelling fragrance becomes memorable, enduring, and enticing. Find it at Sephora in the US.



Teint de Neige
Part of Lorenzo Villoresi's Fantasy Fragrance collection, Teint de Neige ("the color of snow") is perfect for the holidays. Villoresi says that Teint de Neige reflects the sophisticated beauty and the atmospheres of the French Belle Epoque. It has the pleasing waft of perfumed powders. Think of a soft, gentle talc with a delightful persistence. The fragrance's top notes include jasmine, rose and ylang ylang accompanied by — what else — powdery and floral notes. The end result is an aroma with the richness of the natural extracts of precious flowers.


Last on the "snowy" list: Demeter's Snow, and I can tell you it will bring back memories of getting a snowball in the face! This is not a flowery interpretation of snow, but truly the real thing. On their website, they say, "At Demeter, we were able to capture the essence of snow in a scent; chilling, cool, clean and fresh, with a touch of dust (necessary to form flakes) and earth (upon which to rest)."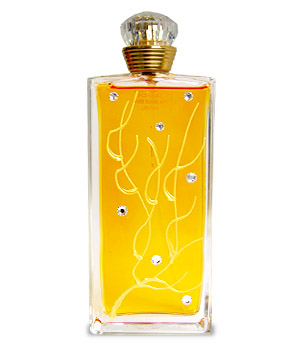 Hiver
Rather than focus on the ice outside, Martine Micallef uses warm scents like sandalwood and vanilla and spices like cinnamon and cumin to conjure up a cozy winter day in her fragrance, Hiver (part of the "4 seasons" series). Also one of the loveliest bottles around.





BATH

My sister makes the most amazing sticky buns for Christmas morning, and Philosophy has captured that scent in the most edible-smelling concoctions I've ever used. They offer Cinnamon Buns scented body wash, lip shine, body souffle and room spray. These products are low in calories... and they say that the fragrance of cinnamon buns has an aphrodisiac-like effect!

Other seasonal favorites are Candy Cane, the Gingerbread Man and the Muffin Man. Stock up, because they seem to be limited to the holiday season.

Effervescent bath cubes can melt away gift-returning stress, especially when made with holiday scents like Christmas Wreath, Winter Mint, and Vanilla Bean - try them from Jane.

HOME FRAGRANCE

Holiday Spice
Alora's Festa is a holiday edition with notes of cinnamon and bitter orange. The sticks absorb the oil and gently diffiuse it into the air, so you can enjoy the scent of the holiday long after this limited edition is no longer available.

Pine
With its dry yet evergreen richness, Burn's Sugar Pine Balsam candle joins the earthiness of dried pine needles, balsam peru, galbanum and amber with the peppery scent of juniper berries for a fragrance that is warm and rich yet dry and clean.


Roaring Fire
The Diptyque Feu de Bois Candle smells so authentic, even apartment-dwellers can have the flickering glow and warm aroma of a wood-burning fire. Its elegant silver glass casing lends added sophistication.


Snowflakes
This turquoise candle evokes the scent of pure winter snow and the promise of spring's blossoms underneath. A clean, fresh scent that plays with notes of Italian vervain, winter daphne, water lily and Peru balsam.


Holiday Desserts
L'Occitane has a lovely fabric-covered gift box with three candles, each redolent with the smells of Provencale desserts: Crème Caramel, Gingerbread and Pumpkin Chestnut.




May these scents keep you warm and jolly throughout the rest of the holiday season... and I'll get back to you after my vacation!