Variety is the Scent of life
The first time I got a set of fragrance samples was when I ordered decants of every Jo Malone fragrance off eBay. I just loved the idea of mixing and layering them, and certainly wasn't about to get a full-sized version of each one! This set, plus the fragrance combining chart, was enough to keep me occupied for - well, awhile.

Today, a number of perfumers seem to have caught on that we want to try several of their scents before we decide which one to buy:


Fresh now offers "The Fragrance Chronicles" containing 15 of their Index fragrances (15 mL each) - a wonderful way to try them all.





Bond No. 9 knows that fragrance can be as indulgent and rich as chocolates. So they've created the "Bon Bon Box" - a collection of 18 20 mL pocket sprays wrapped in foil like candy. They are simply too adorable. Now you can try each New York inspired scent and decide if you're more a Chinatown kind of girl or a Park Avenue lady.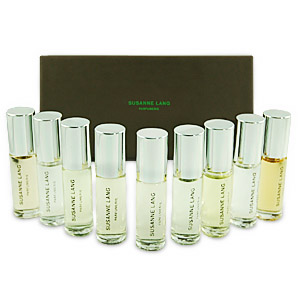 If you're a vanilla lover, you can now try nine of perfumer Susanne Lang's delicious variations on the vanilla theme (9 mL each). Beware - the "Ultimate Vanilla Collection" is here for a limited time only!


The possibilities are endless with the Borsari collections - you can get a set of four or a collector's book of twelve or twenty-four of these Italian fragrances (.12 oz each). Trace the history of perfume with these collections of historical fragrances.

Ormonde Jayne thoughtfully offers a sample set so you can try all nine of her scents. Considered by Vogue to be "one of the fashion pack's best kept secrets," this London-based perfumer offers exotic scents like Champaca, Ta'if and Tolu. They had me at "sample programme."

It's hard to buy fragrances as gifts, but samplers like these give the gift of discovery. Tapping into this trend, Sephora now offers a boxed gift set of samples plus a certificate to get a full-sized bottle of the recipient's favorite scent. This Fragrance Gift for Her is pure genius.

Happy sampling! -Beauty Chick