Exfoliation Nation
Magazines and experts advise us to exfoliate regularly, but not to scrub too hard. Try telling that to a Moroccan.
They traditionally go to the hammam once a week to soak, steam and get scrubbed. The hammam is a public bathhouse and is an important social (but not religious) aspect of life in many Islamic countries.
In Marrakesh, I was feeling a bit grubby from walking around in near-100 degree heat, so I decided to try a "Berber Hammam" offered by my riad (small guest house), a treatment fashioned after how the mountain people of Morocco bathe.


The Hammam at the Riad Jnane Mogador
I was led to a marble room with pretty fountains in it - small enough for just 1 client. After being instructed to leave my clothes in a locker, I sat upon the warm marble floor and the attendant used copper bowls to scoop water from the fountain over my bare skin.
Next, she gave me a blob of a black soap, which had the consistency of Vaseline, and indicated I should spread it over my body, head to toe. She let the soap soak in for a few minutes, then rinsed it off with more scoops of water.
After she uttered a few words in a mixture of French and Arabic, I figured out that I was to lie flat on the warm marble floor for the gommage, or scrubbing. She put on a rough fabric mitt and began rubbing it all over me, one limb at a time. Eyes closed (because you really don't want to look at the person who's seeing you nude!), I focused on the sensation and decided it felt like a rough cat's tongue - but much harder. At times, the scrubbing hurt a bit, but I didn't want any special treatment because I was tourist. Besides, you can't help but feel that if it hurts, it's got to be good for you.
When I did peek my eyes open, I could see she'd manaaged to roll dead skin right off. After a few rinses, she doused my head and washed my hair with rhassoul - a dark, clay-like substance. After a final exfoliation on the face and a few more scoops of water, and I was left squeaky, shiny, pinky clean.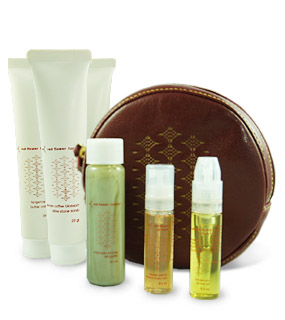 Create the hammam experience at home with Red Flower's Hammam line of bath and body products. They smell fantastic. I'm especially in love with the Cardamom Amber Oil. If you can't decide what to get, try each product in the gorgeously packaged Hammam Gift Set - or buy it for a friend who needs a little body TLC.
Tadé makes a Turkish Black Soap that looks quite similar to what I tried. If you'd like to try the cleansing clay, The Body Shop makes a Rhassoul Soap and Lush's Reincarnate Solid Shampoo also uses the Atlas Mountain mud in its formula.