Taking Care of (Lady) Business
There are so many beauty products out there, it's hard to believe (and I know - because I'm trying to store them all under my sink!) But there is a growing category just for ladies... and companies are coming up with pretty unique products that can help us pamper ourselves and deal with the sometimes not-so-great parts of being a chick. Check out the following products that make taking care of Lady Business much more fun.
Sweetspot Labs: First of all - love the name. Their philosophy? You don't wash your hair with toothpaste, so why should you use just any products on your sweetest spot? Their products are intended to nurture and complement your natural, delicate bodily functions, avoiding commonly used ingredients that are known to create sensitivity or cause irritation. Products include Gentle Wash, Balancing Mist, On-the-Go Wipettes, and Eau de Spot, and they come in scents like citrus galbanum, geranium lavender, basil grapefruit, and, for the ultra-sensitive, you can also get them unscented.
Girl Balm: Here's a belly balm that helps you ease cramps - and promises to melt away the grouchies too! Massage a fingertipfull of Girl Balm into your lower belly, as often as needed. Then stretch, breathe and enjoy - feel lighter and quieter. The organic and wild-crafted essential oils of Clary Sage, Rose Geranium, Ginger Root and Black Pepper encourage hormonal balance and circualtion. The base is made of unrefined beeswax, organic hemp seed oil and jojoba, to soothe and soften. As reviewed in Daily Candy.
Lush silky underwear dusting powder: OK, this is a cool idea - a dusting powder that's made to be worn with (or instead of) your very best undies. Unlike talc-based powders, it's made from cornstarch and china clay with tiny pieces of coca butter to moisturize your skin. The formula is scented with vetivert and jasmine to boot. Only drawback? The Kraft 'Parmesan Cheese Shaker' packaging doesn't match up to the luxurious formula.
Vinnie's tampon case: "Vinnie" lets you approach that time of the month with humor. Check out his funky, retro-styled zippered case designed to protect all your feminine products in your purse. He encourages you to know your flow with a "Giant Roller Coaster Period Chart".
Mrs. Meyers Unmentionable Wash: This has been designed for those special items that you need to launder in private. Gentle, yet effective, it contains Anionic cleansers from plant-derived sources plus Cotton Extract and essential oils for garden-fresh fragrance.
Kama Sutra Honey Dust: What good would talk of lady business be if we didn't include something sensuous - you know, just for pleasure? This sensuous, edible powder is made with pure, natural honey, one of ancient India's most prized skin conditioners. Dust it on yourself and your lover, leaving a silky-soft glow, a delicate fragrance and a irresistible taste.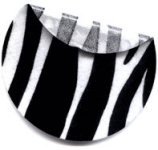 Anti-Panti: A complety adhesive-backed cotton disk that sticks to the inside of your jeans. The soft cotton flannel protects you from your jeans and your jeans from you! The Anti-Panties come in a pack of 5, in assorted colors and patterns. Commandos: Similar idea, different shape (so as not to bunch while hugging your curves).
Reduce/Reuse/Recycle: It's staggering when you think how much garbage our monthly visit from Aunt Flo can generate. Two companies take a novel approach to solving the problem. Both Red Rag and Sckoon offer washable fabric pads that come in a variety of sizes and patterns.